The internet has become the backbone of our personal and professional lives. For official purposes, it is widely used to gather credible information, establish communications, and to do research or to gain the required knowledge.
The internet plays a vital role in educational institutions and businesses. Its fundamental role is to ease out the manual labor in order to increase efficiency. There are schools, colleges, business companies who still use the conventional paper to register attendance of students and employees. This uses significant manpower and time to just register the availability of people, and then the verification and interpretation stages are even more time-consuming.
To overcome such difficulties, we have the 'Online Attendance Management System' or 'e- attendance'.
Online Attendance Management System is an application used for the daily attendance of company officials/employees/etc. This application can be used at organizations, and offices etc. It helps in maintaining the accurate record and to generate summarized attendance reports for evaluation.
Methods
There are several methods to automate the attendance process for employees at an organization. Below are the most popular ones:-
1. RFID cards -
Radio frequency Identification (RFID) is the most popular method for online attendance system. It has the ability to mark the attendance of multiple employees in a matter of seconds.
This is how it works
Each employee is given an RFID card having unique identification number. This card is a smart one because of high-tech qualities.
The RFID scanner can be installed at the entrance, conference hall, meeting room, etc.
Employees carrying RFID smart cards can just simply scan it through the reading devices and their attendance will be marked. Since, it has the ability to read multiple cards at once, there's no need to scan one by one.
RFID readers will read multiple cards simultaneously and mark the accordance of everyone present.
The attendance data can be fetched by the company's integrated management software and interpreted to make use of the data.
2. Biometric Attendance Management (BAM) -
Another very popular method is Biometric Attendance Management (BAM). It is very popular as it saves significant time, money, and effort that go into daily attendance process.
This is how it works
Fingerprint of every employee is recorded and saved in the biometric system.
Biometric readers can be installed at the entrance, meeting room, conference hall, etc.
Employees need to place fingers on the biometric readers and the system will identify and confirm the attendance by verifying the details of the employees saved in its system.
This system is risk-free and one of the most accurate systems to automatically mark the attendance. There is minimal chance for proxy attendance as every person's biometrics is unique.
3. Attendance Management App –
This is probably the easiest method to automate the attendance system. It takes minimal time and effort to register attendance of the employees.
This is how it works
Every employee is registered on the Attendance Management App. It takes less than a minute to mark attendance of all the employees.
Employees who are absent can simply send in the leave application via the app.
Employees who are absent will be automatically marked 'on-leave' in the app.
It also has a feature of app push notifications notifying the whereabouts of the employee if needed. This will ensure the safety and security of employees.
This app is perfect for organizations who don't want heavy investments in management department. It's simple, effective, and efficient in saving time, money, and efforts of the organization.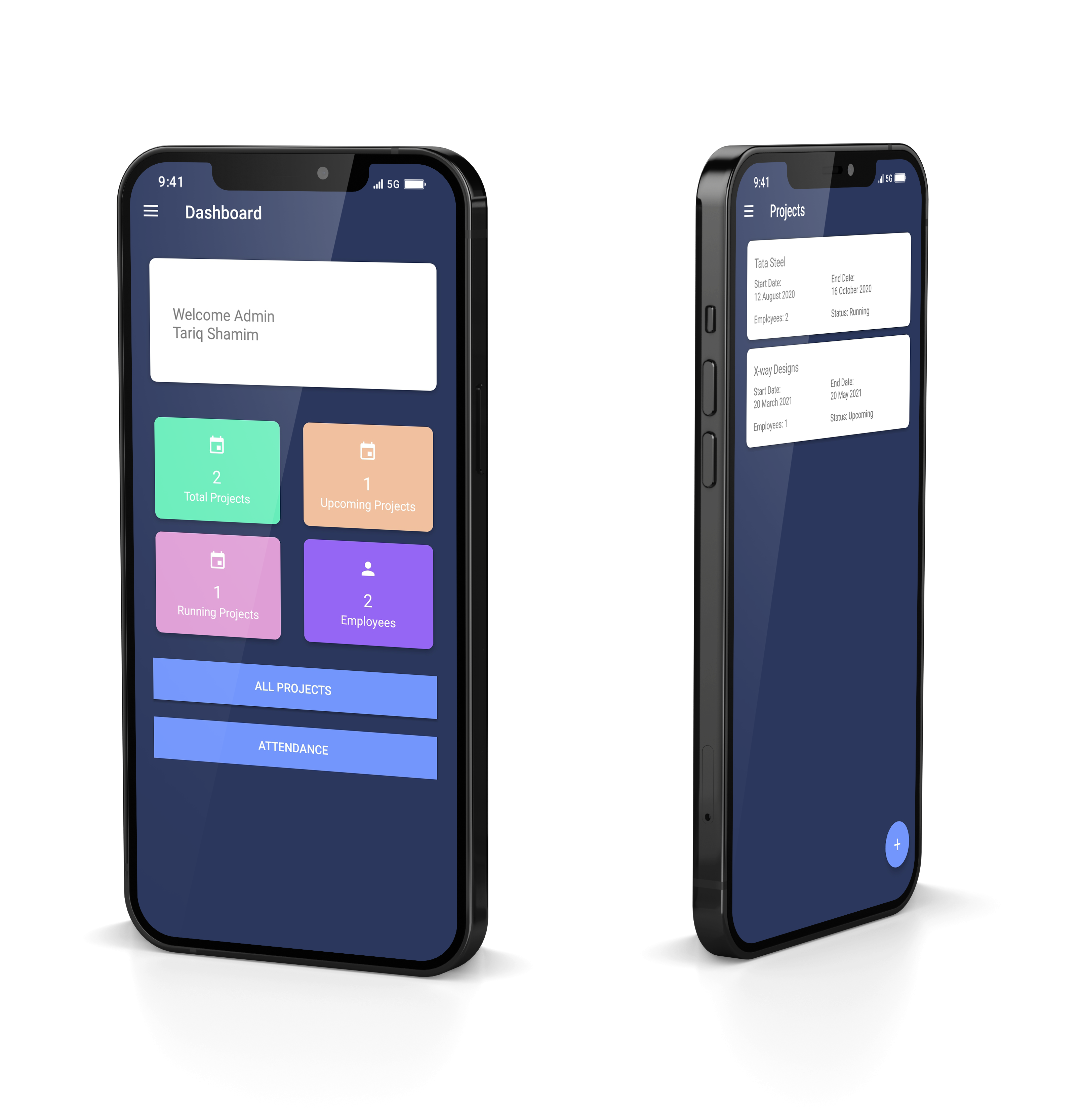 Features
1. We offer attendance management mobile application.
2. The app offers offsite (head office) and on-site attendance of the company employees.
3. Admin can create site and start task. He can further add/remove employees to the particular task.
4. Admin can generate report of every task.
5. Employees can access the assigned task to them from their apps.
6. Employees can mark attendance (login in) for the task assigned to them. They can also punch in/out for some time during there working hour after they have marked their attendance.
7. When employees mark attendance and punch in/out, there map location is saved and admin can see location on Google maps.
8. Admin can view any date attendance with employee location.
9. Admin can generate monthly/yearly attendance report.
10. Employees can upload task snapshot at the end of the day and it can viewed from admin app.
Benefits
1. User-friendly – This application is extremely user-friendly, easy to understand, and well designed to remove any kind of technical barrier. It is extremely simple to use.
2. High storage capacity – you can simply record and upload millions of data on this application.
3. Compatibility – It is extremely compatible to any device which supports the internet.
4. Graphics supported – The application has the feature of graphical and pictorial representation. This feature would assist in better evaluation and analysis.
5. Manageable security issues – The application can efficiently remove bugs and malicious files that are meant to harm the saved data.
6. Easy to maintain and access records: Various reports such as student-wise attendance, day-wise attendance, class-wise attendance, month-wise class attendance, etc can be easily generated. Current and back-dated reports can be made available in an instant.
7. Time-saving – It helps in saving a lot of time that can be used to devote to more important works.
8. Extremely affordable – This application is a multipurpose tool designed to ease off the busy schedules of schools, colleges, companies, etc at very affordable prices.
9. Risk-free – The application provides proper protection from security issues lapses. Bugs, viruses, malicious files, etc can be easily dealt with. Besides, there is no paperwork involved and no chance of manual errors in recording attendances.
Conclusion:
The Online Attendance Management system is an extremely valuable technology. It is a life- saver for multinational companies and educational institution where the option of manual attendance is not feasible and sensible.