X-way cloud is a cloud file storage web application designed to help you manage files with your team, saved on your cloud storage. Cloud storage allows you to safely and securely save data on the off-site database maintained by the third parties.
Cloud storage Vs Hard drive storage
1. Cloud storage allows you to store data virtually so you don't have to worry about physical storage devices anymore.
2. Physical storage devices can be lost very easily while cloud storage can be accessed from anywhere.
3. Data can be very easily shared online with the help of X-way folder and the content can be accessed instantly.
4. Cloud storage is very affordable with plenty of storage space as compared to costly and limited capacity hard drive devices.
Cloud storage functions
With cloud storage you can easily access, save, process, interpret, and share files with others. You can simply upload files on X-way cloud storage and access the data cloud on desktop, mobile, tablet, etc. Cloud storage providers own and maintain the offsite servers that make up this network at their data centers.
Benefits/Characteristics
1. Back-up your data: Back-up any kind of folder or file (photos, videos, movies, documents, power-point slides etc) in any format no matter the size or length on X-way cloud data services. Get it secured safely so you don't have to worry about data loss.
2. Access through multiple devices: Your cloud data can be accessed through multiple sources. You just need to sync your device with the account. Access your X-way cloud data on mobile, tablet, desktop apps on Windows and Mac, etc.
3. Data protection: All your data can be protected by simply storing your data on cloud servers. Backing-up your data on X-way will help you access the files and folders anytime.
4. Data Storage: You can easily pay for the required amount of storage you need to save the files.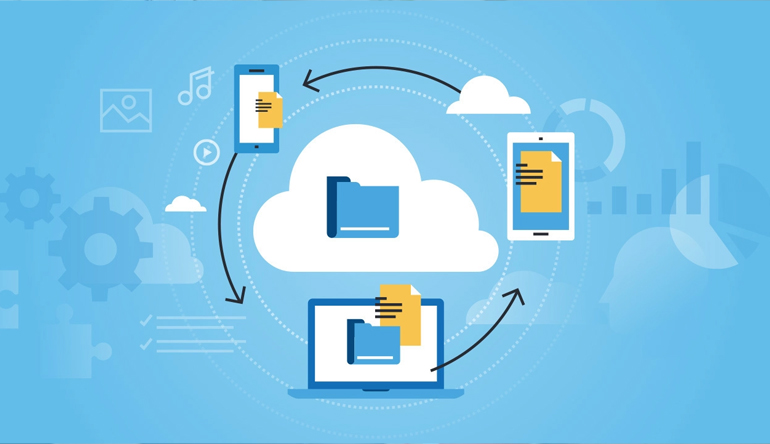 Top 7 Best Cloud File Storage Web Applications for Businesses
Below are some of the overall best cloud file storage applications for business purposes. This list discusses features, pricing, and rankings in detail. It covers both premium and free web applications compatible to IOs, Windows, and Android devices.
1. IDrive – IDrive is possibly the best cloud storage app for saving photos and videos. It also has a face recognition feature that automatically organizes and syncs across all the connected devices. It has an impressive 5 Terabytes (TB) storage capacity. It is end-to- end encrypted with option to connect through unlimited devices. IDrive Business offers unlimited sign-ins with single account, server backups, unlimited computers, and exchanges. Plans start at $7-8 which includes unlimited pairing and 5 TB storage capacity. It also provides the feature to share files through social media platforms including Facebook, Instagram, and Twitter etc. One demerit is that it takes comparatively more time to upload and download files.
2. pCloud – It is one of the best cloud storage apps in terms of uploading and downloading speeds. This app does not bar any file size from uploading and downloading. With an impressive file storage capacity of 500 GB, this app provides a built-in media player. It also supports file versioning and advanced file sharing options. The premium plan for 500 GB starts at $4 per month, $8 per month for 2 TB, and $175 for lifetime plan with 500 GB storage capacity. Demerits of it include limited customer support, lack of tools in free version, and no real- time collaboration.
3. Google Drive – It is one of the most popular cloud storage web applications for personal and business purposes. It offers cloud storage capacity of 2 TB. It is beneficial for android users to work seamlessly without any hassles. It offers Google Office Suite to create, save, and share documents, presentations, and spreadsheets etc. High quality photos and videos can easily be saved through mobile application. The premium plan for Google Drive starts at Rs 1944. It is well equipped with AI and search technology. One huge demerit of this app includes no password protection on files.
4. Microsoft OneDrive – It is one of the easiest cloud storage apps to upload and download photos and videos. It's quite simple and convenient to use as it has the feature to sync all photos across the connected devices. You can connect upto 30 devices through one OneDrive account. It provides cloud storage capacity of 6TB. Its mobile app is multi- featured with features like multi-page scanning and immediate access to file explorer for those who want direct online backup. It provides unlimited end-to-end encryption with premium plans. It costs Rs 3749 for premium version of OneDrive. IT works flawless on most operating systems. Basic plan with 5 GB storage capacity costs $9.99 per month. 6 TB storage capacity would cost $99.9 per month.
5. Box – This cloud storage app is mostly used by businessmen and business officials. It has been prioritized for business demographic. It offers unlimited cloud storage and unlimited device pairing for business plans. It provides a huge range of app integrations and easy- to-use interface makes it easy to work. Business plan also has advanced collaboration options and multiple encryption methods for security. Business plans start from $10 per month with up to 10 users limit. One demerit of this app is that individual plans are quite restricted in this application.
6. Sync.com – It provides end-to-end encryption feature for security. It also provides unlimited share transfer limits, real time backup and sync, and direct access from anywhere on the planet. You can share or send any file with anyone and the data is synced across all devices. Standard plan for sync starts at $5 per month for each user, Plus plan starts at $8 per month for every user, and $15 per month per user for Advanced plan.
7. Nextcloud – It is a self-hosted file sync and collaboration platform which offers cloud storage services to users. It offers full control and faster servers. You can download and install for no cost at all. It's absolutely free. It provides unlimited cloud storage with unlimited device pairing. Encryption for this software can be manually customized. It's demerits include 24/7 customer support for only higher tier plan users and it is a bit time consuming to set-up.